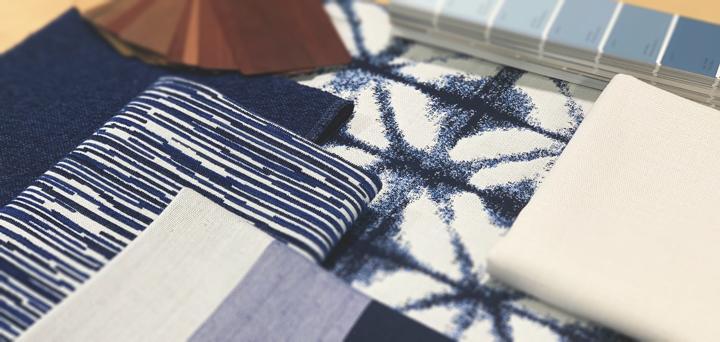 Haven & Harmony. Welcome. We Are Glad You Are Here.
When the Haven & Harmony Marketing Team got together, we started brainstorming on how we could better serve customers and engage with them on a more personal level when it came to choosing fabrics and creating a design that fit their personalities.
We understood that the Sunbrella brand had changed so much over the years and what started as a few solid and pattern color choices has now turned into literally thousands of fabric options.
Curated Rooms
The sheer number of Sunbrella pattern offerings is overwhelming, not to mention trying to pull the colors and designs together without the actual books in hand. This is how we came up with the Sunbrella curated rooms concept and we called it Haven & Harmony.
A Haven is any place that someone would like to spend their free time, and Harmony is how we want to feel when we are there. We use our own design knowledge and sort through all the fabrics and colorways to design a complete, curated look.
We know that the Sunbrella brand started out as mostly outdoor performance fabrics, but they are now a big player in the indoor decorative fabric market as well. This is why we try to focus on creating interior fabric elements such as bedding and table linens along with drapery and pillows.
Why Sunbrella?
Sunbrella is unconditional. Sunbrella is diversified in choices. Sunbrella, because of its ease of cleaning and durability, fits into the lives of those who need it to perform, such as people with kids or fur babies. Spill a glass of red wine on a light-colored fabric? Not a problem with Sunbrella. Now this is a brand that we can get behind!
Since all the elements that we showcase in a room are handmade by us in Clearwater, Florida, it makes it easy for Haven & Harmony customers to shop an entire look without having to visit multiple websites.
We work with today's most influential designers and influencers to continue to create curated spaces.
Personalized Curations
We also invite our customers to send us their own design inspirations and let our team go to work, curating a room just for them.
This is Haven & Harmony. Welcome. We are glad you are here.